---
Panasonic

Toughbook 54, CF-54 MK3, 14" FHD, Touch, Intel Core I5-7300U, 32GB, 1TB SSD, 4G LTE, dGPS, Serial, Webcam, With Long Life Battery

4G LTE, Dedicated GPS, Serial Port, Webcam

$1,499.00 USD

Unavailable

In stock (12 units)

Panasonic

Toughbook FZ-55 MK1, Intel Core i5, 14" FHD Touchscreen, 4G LTE, dGPS, Infrared Webcam, Dual Pass, with USB-C, Windows 10 Pro

$1,329.91 USD $3,304.00

Unavailable

Low stock (4 units)

Panasonic

Toughbook CF-33, CF-33LEHFJVM, Intel Core i5-7300U, 12" QHD, 8GB, 256GB SSD, 4G LTE, dGPS, Serial (True), Premium Keyboard

$1,799.91 USD $2,525.00

Unavailable

In stock (13 units)

Panasonic

Panasonic Toughbook 20, CF-20 MK2, Intel Core i5-7Y57, 10.1" Multi-Touch + Digitizer, 8GB, 256GB SSD, Backlit Keyboard, 4G LTE, 2D Bar Laser, Bridge Battery, Windows 10 Pro

$1,292.92 USD $1,799.99

Unavailable

Low stock (4 units)
Refurbished Unbeatable Affordability
By choosing a Refurbished Toughbook, you can save a significant amount of money compared to purchasing a new device. Enjoy the benefits of rugged mobility without compromising your budget.

These cost-effective options are ideal for individuals and businesses seeking high-quality devices without the hefty price tag. Maximize your savings without compromising on performance or reliability.
Reliable Performance
Despite being refurbished, these Toughbook devices retain their exceptional ruggedness and durability. Designed to withstand extreme conditions and rigorous usage, they are perfect for professionals on the go and outdoor enthusiasts.

Feel confident in the face of challenging environments, knowing that your Refurbished Toughbook can handle drops, shocks, vibrations, and harsh temperatures with ease.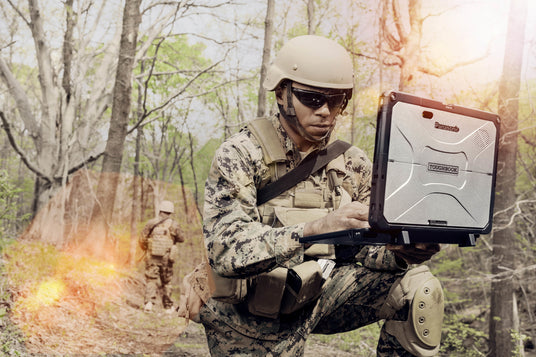 Peace of Mind
Each Refurbished Toughbook device comes with a warranty, providing you with additional assurance and protection. Enjoy the confidence of knowing that your investment is safeguarded against any potential issues.

Our dedicated customer support team is always ready to assist you, ensuring a seamless and satisfying experience throughout your ownership of a Refurbished Toughbook.